Product Overview
Care and Maintenance
Click to download our maintenance guide.
HGT bluegrass was developed in harsh climatic conditions, specifically to withstand turfgrass diseases, turf pests, use and abuse, and the extremes of summer heat and humidity.
Extensive testing in various climates and conditions has proven HGT a winner! No other Kentucky bluegrass has been found to outperform HGT. Initially selected from intense traffic simulation studies in 2001, HGT bluegrasses have shown both extreme wear tolerance and superior turf recovery.
An additional three years subjecting these bluegrass selections to heavy disease pressure in Mid-Atlantic States provided superior Summer Patch resistance, excellent tolerance to both grubs and billbugs, and ultimately plants ready for seed production trials. More than a decade later, Turf Blue HGT, featuring Barvette HGT Kentucky bluegrass, is establishing itself as one of the 'go to' bluegrass blends for sports turf, golf, and all bluegrass turf areas requiring summer performance, durability and recovery.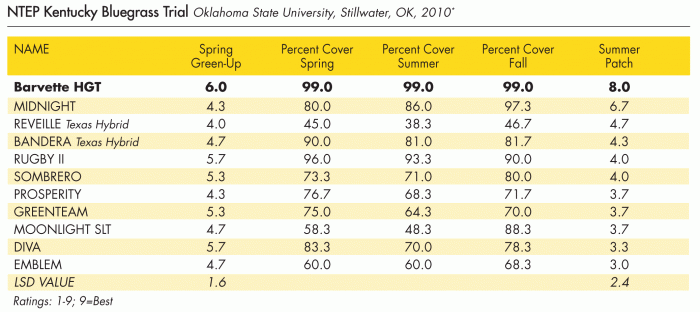 Barenbrug USA's Barvette HGT is an aggressive Kentucky bluegrass that demonstrated excellent stand persistence, very good stem rust and excellent summer patch resistance during the 2005-2010 NTEP Kentucky bluegrass trial at Stillwater, OK.
"I am excited about its commercial release and look forward to hearing of the experiences and feedback from end users in the turfgrass industry." - Dennis Martin, PhD • Professor & Turfgrass Extension/Research Specialist, Oklahoma State University

Barvette HGT offers extreme resistance to SUMMER PATCH.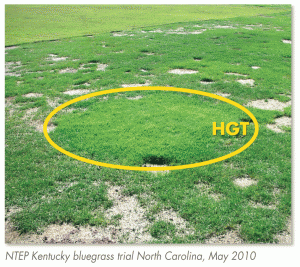 Tested intensively at many locations across the country and in university trials, Barvette HGT stood out for its excellent resistance to Summer Patch. In the National Turfgrass Evaluation Program (NTEP) tests, Barvette HGT actually took over some heavily affected neighboring plots.
"Barvette HGT (BAR VV 0709) was the top TQ entry in the transition zone region, probably because of its excellent Summer Patch tolerance" (Kevin Morris, Executive Director NTEP, TPI Turf News July/August 2011).
TRAFFIC RESILIENT AND RAPID RECOVERY
Barvette HGT not only tolerates traffic but also recovers very quickly from traffic damage. In research studies conducted at Michigan State University, Barvette HGT was compared to other high-ranked Kentucky bluegrasses. In every trial, Barvette HGT performed considerably better than other popular varieties, such as Midnight, Prosperity and Jumpstart. Likewise in the NTEP traffic stress tests, Barvette HGT was superior to other entries at both Michigan State University and Rutgers University trials. Of all of the NTEP-rated grasses, Barvette HGT is the highest ranked for tolerance against wear. Six other Barenbrug grasses are ranked in the top ten of that same list. In the NTEP Transition Zone sites, Barvette HGT rated either as #1 or in the top statistical group for 16 different Kentucky bluegrass performance traits.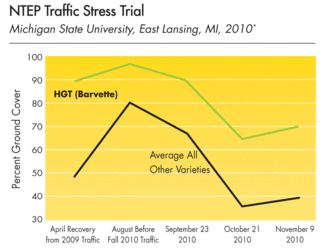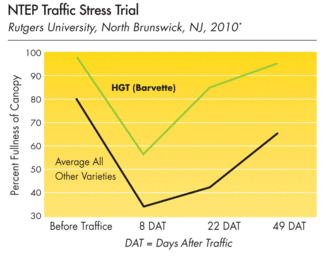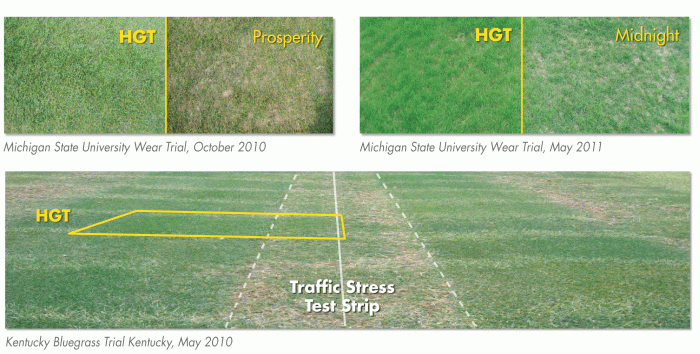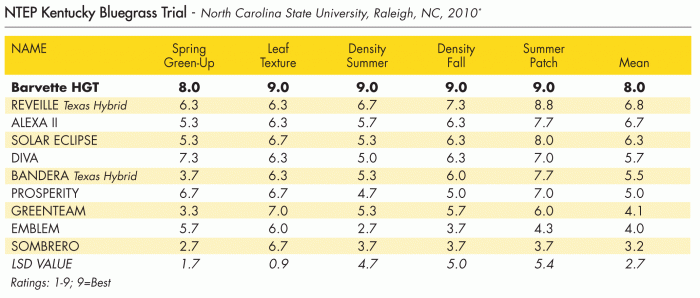 GREEN-UP LIKE NO OTHER BLUEGRASS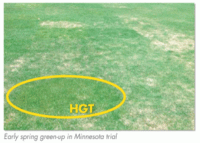 Spring green-up is an important component when evaluating bluegrass performance. When spring arrives, turf managers and their clients want to see GREEN! Most bluegrass varieties are slow to very slow to gain color. Barvette HGT provides the early color and growth needed for use, for play, and for outdoor enjoyment. It greens up earlier in the spring than most bluegrasses, even on sports fields that are used all winter long.
GRUBS 'N BUGS DON'T LIKE HGT - HEALTHY GRASS IS THE RESULT
White grubs and billbugs can devastate Kentucky bluegrass. That's not the case with Barvette HGT. The 2005 Kentucky bluegrass NTEP Trial acknowledged Barvette HGT for having exceptional tolerance against these bluegrass foes.